Computing
Meeting Details
Meeting Day
Thursday (Please note the change)
Time
2.00 - 3.30
Frequency
Weekly Autumn and Spring terms
Location
Beck Community Centre
Co-ordinator(s)
Susan Heyes
What we do
Our aim is to encourage members to discover the potential of a personal device be it a laptop, tablet or smartphone and to use it with confidence.
We do not offer taught courses but, whenever possible, provide one to one support for finding your way around your device. Between us we can hopefully cover most areas. Members work at their own pace on whatever interests them. We have a team of tutors who are on hand to help. New tutors would be particularly welcome.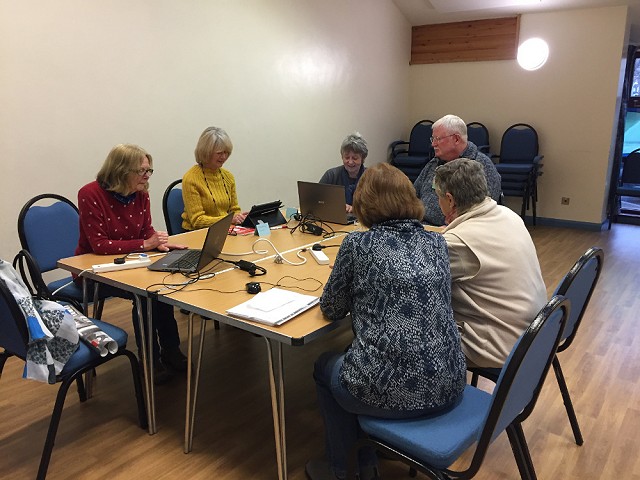 Favourite activities include: searching the internet, sending emails, building an address book and playing around with your photos.
Our meeting room has a high speed wireless internet connection.
Members range from complete beginners to more experienced users wanting to learn something new or brush up their skills. These days many of our pupils only need to come for a few weeks.
Classes are held at the Beck Centre at Heron Hill each Thursday afternoon from late September to the end of March. There is a charge of £1 per session.
Reports
November 2018
2019 meetings - Weekly: 10th January to 28th March
Many apologies for the incorrect details in the last newsletter and the need to change the meeting day to Thursday. Correct details will always be posted on the website.
At the start of the Autumn term George Coulthard decided to retire from the group. We thank him for the huge contribution he made over the years.
Fieke Harteveld has stepped back from being a co-ordinator but we are happy that she still joins us to take the money and keep an eye on us all.
Following the Open Morning we had a lot of interest and recruited some extra tutors so we could continue to offer one to one support. Unfortunately, after a flurry of interest the first week numbers dropped off and we have sometimes had help available but not enough customers. We cannot afford to lose these willing volunteers. We appreciate that members cannot commit to every week but it really would help if we knew which sessions you might be attending. Newcomers are still very welcome.
We are not experts but hopefully one of us will be able to offer advice as to how you can make the most of your tablet, laptop or smartphone. If nothing else, we hope to give you the confidence to get to grips with the technology behind your devices.
August 2018
Next Meetings - 27th September to 6th December 2018, Thursdays 2 – 3.30pm;
(Please note the change of day.)
The group has a small number of volunteers who attempt to offer individual help according to need, be it with a laptop, tablet or smart phone – and sometimes by connecting all three!
Alternatively, you might just want to avail yourself of the high speed broadband on offer at the Beck Centre and use the session to give your device your undivided attention.
If you are at all interested in joining (or even re-joining) this group, please contact Susan or Fieke or sign up at the Open Morning on 5th September.
We are not experts so we would also welcome anyone who feels at all competent in offering help or advice.
May 2018
No meetings in the summer.
The computer group had its last meeting on the 21st March 2018. Since September 2017 we have been offering weekly drop in sessions which seems to have worked well even when we are never too sure how many to expect.
We shall now have a long summer break and start again in September. In the meantime, should you need any help or advice please contact Susan or Fieke who will try and find someone to assist you.
A big thank you to all the tutors who gave their time especially when they were not always needed at a session due to the low number attending.