Gardens (Friday)
Meeting Details
Meeting Day
3rd Friday
Time
10.00 - 12.00
Frequency
Monthly
Location
Various outdoor locations & Castle Street during some Winter months.
Co-ordinator(s)
Kath Edwards and Elaine Boothman
What we do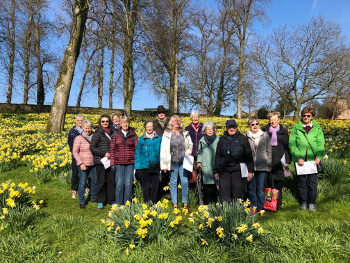 Our group comprises members with an interest in plants, gardens and gardening.
We meet at Castle Street Community Centre for some of the winter months, where we invite speakers, show DVDs related to Gardening and the History of Gardening , or some members will take part in presentations on a chosen theme.
In the warmer months we visit gardens of interest or other members' gardens.
Our learning, in addition, comes from our own members' knowledge as we discuss topics of interest, swap plants, seeds and produce.
Reports
August 2019
Our next meetings will be
| | |
| --- | --- |
| August 16 | High Moss gardens near Keswick with lunch |
| September 20 | A talk on Mecanopsis at Holehird gardens |
| October 18 | To be arranged |
| November 15 | Castle Street, Members presentations on Gardens 2019 |
| December 13 | Christmas workshop and Jacob's Join, Crosthwaite Village Hall |
May 2019
From February to October we visit varied garden venues of interest. During the winter months we meet at Castle Street or other indoor locations for films, lectures or member presentations on gardening topics.
| | |
| --- | --- |
| March 15th 2019 | Holden Clough Nurseries, Bolton-by-Bowland |
| April 12th 2019 (early due to Easter) | Winderwath House CA10 2AG Temple Sowerby |
| May 17th 2019 | A garden demonstration on pruning – Farleton View Nurseries. |
| June 21st 2019 | Garden and Orchard visit in Arnside (Private Venue) |
| July 19th 2019 | Garden visit to be arranged |