Instrumental Music
Meeting Details
Meeting Day
Monday
Time
2.00 - 4.00
Frequency
Weekly
Location
Members' homes
Co-ordinator(s)
Gay Soan & Margaret Wells
What we do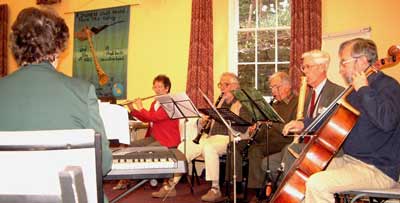 .
The Instrumental Music Group consists of a small number of woodwind and string players (8, when we are all present), plus two pianists who join us every other week. We mainly play arrangements of orchestral and chamber music from the classical repertoire, plus a few items such as Scott Joplin and Gershwin for variety.
We are all approximately Grade 4/5 or above to give an indication of the playing ability required. We meet at members' houses (there are three or four of us who host it, but no-one is is obliged to) and we have a lot of fun taking the music we play seriously, though not ourselves! If you play an orchestral instrument and would like to join us, please ring the co--ordinator for more information or come and have a chat with us on enrolment day.
Reports
August 2019
We are a small group comprising a mixture of string and woodwind players who meet on a weekly basis at various members' houses. Our meetings are very informal and we play a wide range of arranged orchestral and chamber works selected to suit the members present each week. We play for our own enjoyment, definitely not for public performance! Although our numbers are limited by restrictions imposed by the size of meeting places,
we welcome enquiries from string and woodwind players (except clarinets who are well represented at present).
May 2019
At present we have 8 members - flute, clarinets and a string quartet. We are always on the lookout for more string players/ bassoon/ oboe, especially as our cello player will be leaving later in the year.
We tackle a wide range of classical music depending on the members present and play for our own enjoyment, definitely not for public performance! For our own satisfaction we do work on trying to improve our playing of our repertoire and are constantly adding new works.
Please contact the co-ordinator if you are interested in joining us.