Italian
Meeting Details
Meeting Day
Wednesday
Time
10.00 - 12.00
Frequency
Weekly
Location
Castle Street Centre
Co-ordinator(s)
Margot Harvey and Ian Hatwell
What we do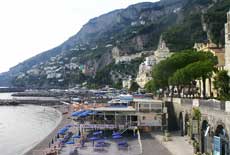 Our aim is to improve our conversational skills; we will be talking about what we've done during the previous week and future plans, items from the news, hobbies, holidays - anything that interests you.
The group would suit those with reasonable knowledge of the language, e.g. ability to use the past, present and future tenses / GCSE standard / 3 years of classes.
If the majority of the group are interested, we could use a text book for extra practice, to extend our grammatical knowledge and to stimulate discussion.
Reports
May 2018
Next Meetings - April 4th, 11th, 18th and provisionally May 2nd, 9th, 16th & 23rd
We have enjoyed a lively term with lots of chatting in small groups and some entertaining general discussions on a variety of topics, as well as hearing many interesting individual contributions. As we approach the summer and the lure of travelling, it is possible we may have just a short 'term' (see above) but we do have the option of continuing in May should there be sufficient demand.
November 2017
January 10th to March 21st except February 14th
April 11th to May 23rd ( to be decided).
Although we have regretted saying arrivederci to some long-standing members, we have been very pleased to say benvenuti some new ones. Our aim remains the same - to improve our ability to express ourselves in Italian, by understanding, speaking and, if we wish, writing. (NB: a reminder that this is a conversation group rather than a taught course.) Do get in touch if you are interested in joining us. Some of the dates above are provisional and may be altered later.
July 2017
We start again in September after a very long summer break (when hopefully we have not become too 'rusty') ready to enjoy our weekly chance to practise our Italian.
Some sessions will involve a general conversazione improvvisata' on a theme chosen in advance by the group, while in others socii can introduce any topics they wish such as recent experiences, holidays, newspaper articles, films etc. so that the session involves short conversations on many subjects. Everyone in the group can speak, or just listen if they prefer.
A recent highly successful variation has been Italian Scrabble where some remarkably high scores have been achieved. New members are welcome whether or not you wish to develop, improve or simply keep up your Italian through conversation.
So new or existing members PLEASE do get in touch before we start whether you want to opt in or drop out! Mille grazie! (Phone or email: margot@underfell17.plus.com)
March 2017
With the prospect of several members taking early summer breaks we have decided to suspend our weekly meetings at Castle Street after Easter until we start again in September. However we do intend to meet informally to parlare Italiano and the first get together will be on April 26th at 10.a.m at the Warehouse Cafe at the Brewery Arts Centre. Please get in touch if you would like more information, particularly if you feel interested in joining the group.