Italian
Meeting Details
Meeting Day
Wednesday
Time
10.00 - 12.00
Frequency
Weekly
Location
Castle Street Centre
Co-ordinator(s)
Margot Harvey
What we do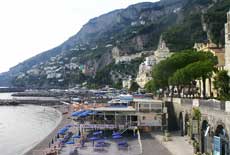 We meet to try to talk Italian! This is not a taught group but Ian is on hand to clarify grammar, common usage and any queries we may have. The group is probably not suitable for absolute beginners, but there is a wide range of linguistic ability and the atmosphere is informal, friendly and fun!
The format is mixed – sometimes a whole group discussion on a prepared topic; often we take turns to talk about something of interest (prepared or improvised); at other times we split into small groups of 3 or 4 to chat; occasionally we play Italian Scrabble or do crosswords – in fact we are open to anything which helps us improve our listening and talking skills, and widens our knowledge of the amazing country that is Italy.
If you are interested in joining us do get in touch, but if you are not rejoining this year please let me know – grazie!
Reports
May 2019
The group has enjoyed un semestre vivace e divertente with several new members, small and large group conversations, Italian Scrabble sessions and a most interesting visit from a Tuscan farmer who kept us all on our linguistic toes for an hour or more!
We are having an early start to the summer break with the last session on May 1st but hope to reconvene with lots more tales to tell in September.
November 2018
No report received
August 2018
Next Meetings - September 12th to December 12th except October 24th
Our group will start again in September for those wishing to develop, rekindle, improve or keep up their Italian. Over the last year the structure of sessions evolved so that we now enjoy a variety of ways in which to converse – large group, small group, prepared, or improvised not forgetting the highly successful Scrabble. We look forward to getting together again for our relaxed, informal get togethers and of course are happy to welcome new members.
As ever it would be extremely helpful if you could let me know prior to September if you will not be returning. Mille grazie!