Jive
Meeting Details
Meeting Day
Wednesday
Time
4.00 - 5.30 pm
Frequency
Weekly
Location
Castle Street Centre
Co-ordinator(s)
David Beare
What we do
To give you a taste of this group which started just before Christmas and grew to over 20, here is a collection of comments from group members:

"The Jive group has been great fun. Everyone has happily danced with each other and we have managed to create a happy blend of joyous spontaneous dance and sharing and learning new moves.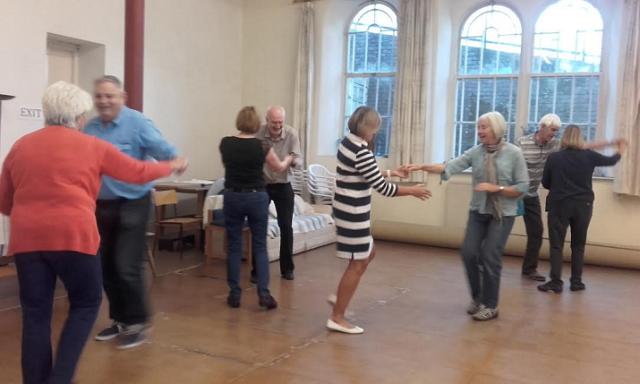 Jiving is great exercise for body and mind, the music makes us feel young/alive and hopefully we'll learn how to really 'swing' with new steps and moves."

"Jive generally seems to be making a comeback and there are quite a few opportunities for people to go and dance, so it's good to refresh the steps, learn some new ones and make new friends. We've enjoyed the music and the social side. It's good exercise, great fun, really groovy, dead cool - a chance to grow old 'disgracefully'. Rock on! I absolutely love it!"

The group may run over the summer if enough jivers are available. We plan to go to rock 'n' roll gigs together and show off our talents before resuming en masse on October.
Reports
November 2018
Meetings - Ending Dec 12th Restarting Wednesday Jan 9th
Our new venue in the main hall at Castle Street has given room to those who are expansionist in their dancing. We have seen a general increase in numbers to 16 or more with a number of beginners starting in November and others appearing at almost every meeting. How could people live through the 60s and 70s without Jiving?
Music is mainly from the Rock and Roll period and includes, Bill Haley, Elvis, Little Richard and other well known performers but we also dance to later classics such as Mamma Mia.
Beginners are generally taught on a one to one basis and it is surprising how quickly they pick up the basic moves. One described it as exercising with talking.
We have room for new members so do come along without or with partners and give it a try. Wonderful for a bit of weekly exercise.
Autumn 2018
The first session will be 3 October at the Castle Street Centre.
May 2018
This group does not operate in the summer. It will restart in September.