Jive
Meeting Details
Meeting Day
Wednesday
Time
4.00 - 5.30 pm
Frequency
Weekly
Location
Castle Street Centre
Co-ordinator(s)
David Beare
What we do
To give you a taste of this group which started just before Christmas and grew to over 20, here is a collection of comments from group members:

"The Jive group has been great fun. Everyone has happily danced with each other and we have managed to create a happy blend of joyous spontaneous dance and sharing and learning new moves.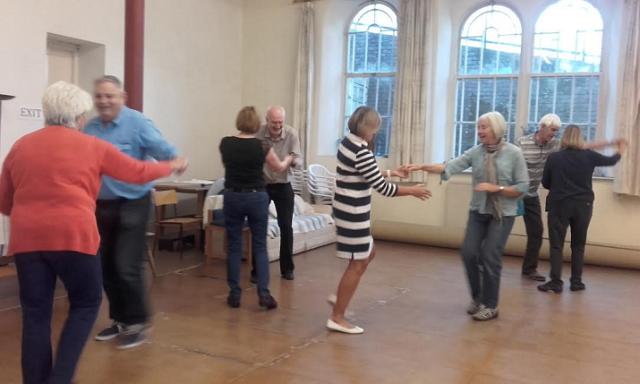 Jiving is great exercise for body and mind, the music makes us feel young/alive and hopefully we'll learn how to really 'swing' with new steps and moves."

"Jive generally seems to be making a comeback and there are quite a few opportunities for people to go and dance, so it's good to refresh the steps, learn some new ones and make new friends. We've enjoyed the music and the social side. It's good exercise, great fun, really groovy, dead cool - a chance to grow old 'disgracefully'. Rock on! I absolutely love it!"

The group may run over the summer if enough jivers are available. We plan to go to rock 'n' roll gigs together and show off our talents before resuming en masse on October.
Reports
Augusy 2019
After our relaxing Summer Break, we will restart in the Autumn on October 9th and continue on alternate Wednesdays. Kathy Twist will be instructing for part of each session but also learn from other members.
Modern Jive is an easy fusion of Jive types which fits many different styles of music. Most of our members dance it in a very easy and relaxed manner without the fervour of some swing dances such as Rock and Roll.
Usually there are a similar number of partners for everybody Come along, see what you are missing and enjoy jiving.
Talk to us at the Open Morning 4.9.19 in the Town Hall.
May 2019
We have been told that Castle Street is full of joy and people are full of beans when the Jive Group is there. Newcomers at any standard are welcome with or without partners, now or in October.
However our big change is that since the New Year we are having 30 minutes instruction at every meeting on Modern Jive moves from Kathy Twist. Those of us who have picked up jiving over the past 60 years are finding it quite a thought provoking change.
We are finishing until the Autumn on April 24th but weekly Ballroom Dancing – Strictly for Fun will be using the same slot from May 1st, see their Group page for details.
For further information contact David Beare