Moving to Music
Meeting Details
What we do
This group might appeal to anyone who enjoys the freedom and relaxation that moving to music brings. Our aim is to keep all our bits in good working order, and have fun at the same time!
We do simple stretching, aerobic and weight bearing exercise and dance designed to maintain, and hopefully improve stamina, suppleness, and strength and at the same time stimulate concentration and memory. We work through a series of routines focusing on different parts of the body and usually include a more creative section that changes frequently.
The music is an eclectic mix that might come from anywhere in the world - Cuba, Italy, Africa, Asia, UK, USA; and any time – the nostalgic 40's, the rocking 50's; and any style from folk to jazz, classic (very occasionally), Bhangra, Latin American, and of course, 'pop'. The only criteria that count are that the music is rhythmic, and uplifting, and so guaranteed to get us moving!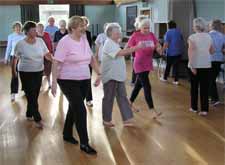 HOUSE RULES: Only two:
1. Safety first - non-slip soles or bare feet are a must;
2. You are responsible for your own level of participation - work within your own limitations.
No pain, no strain, just start the week with a swing!
Reports
August 2018
Weekly: Monday 10.45 a.m -12.15 p.m. Abbot Hall Social Centre
September 10th to December 10th except October 29th
Weekly: Wednesday 12.15 -13.15 p.m. Castle Street Centre
September 12th to December 12th except October 24th
As I write this extraordinarily hot summer we are having leaves me with a total disinclination to move at all (except to water the garden), so by September a spot of jigging around will be absolutely essential! If you were a member of either group last term I shall assume that you will be returning unless you let me know otherwise, and as there is still a waiting list it really is vital that you tell me if you no longer are able, or wish, to attend before the open day please. Thank you!
I look forward to seeing you in September to 'strut our stuff' once more and in the meantime – stay cool!!
April 2018
Weekly: Monday 10.45 a.m -12.15 p.m. Abbot Hall Social Centre -April 9th – May 21st
Weekly: Wednesday 12.15 p.m. -13.15 p.m. Castle Street Centre - April 11th – May 23rd
Our music recently has had 'sixties' and Italian themes but perhaps our most taxing routine was our version of Bollywood/Bhangra – great fun but which turned out to be much harder exercise for the memory than the body!
We were shocked and greatly saddened by the death of Enid Holmes who was not just a very lively member of the Monday group, but also deputised for me so often, and led her own summer sessions last year. We miss her greatly. However on a very much more positive note M to M now boasts 2 nonagenarians, one in each group, who are such an inspiration to us all! At the end of May we will have the long summer break until September but ….. keep on moving until we meet again!
November 2017
Co-ordinator: Margot Harvey
Weekly: Monday 11.00 a.m -12.30 p.m. Abbot Hall Social Centre
January 8th to March 19th except February 12th
Weekly: Wednesday 12.15 -13.15 p.m. Castle Street Centre
January 10th to March 21st except February 14th
Our bodies and brains continue to work hard on Mondays and Wednesdays hopefully enjoying a stress free hour of motivating music (some new Caro Emerald and a nostalgic mini 'sixties' season this term). It has been great to welcome back 3 new knees (belonging to different people!) and a new pacemaker, but as ever we send our best wishes to those who have been unable to join us. For me it is an absolute joy to work with such enthusiastic, willing but forgiving groups of people. Thank you all!
Both groups are now absolutely full to capacity and there are many patient people on the waiting list so it is especially important that you let me know if you don't wish to continue. Very disappointingly it looks as if the protracted changes to Abbot Hall won't give us any more space so numbers are still restricted for the Monday group.
July 2017
At the start of a new year it always seems appropriate to recap what M to M is all about and that is, through simple exercises and dance trying to keep our muscles, joints, cardio-vascular system and memory in good working order, helped by good music and an awful lot of laughter. It has been good to have the opportunity to keep moving and laughing in the summer sessions – thank you to Enid!
The Monday Group starts a week late this year as Abbot Hall is closed on the 11th for a new boiler installation. It is going to be interesting to see what changes there are to the room when we return!
March 2017
It has been an 'interesting' (!) term for the Monday Group as we have oscillated between Abbot Hall and the Unitarian Chapel so I do hope we will be back 'home' after Easter. As Easter is so late there will be just 4 sessions for each group after the holiday, after which we will stop for the summer. However we are going to experiment with running some summer sessions on Mondays (same time, same place) thanks to a willing leader in Enid (Holmes) and requests from the members. The dates are as follows:
May 29th - June 19th inclusive (4 weeks)
July 24th - Aug 21st inclusive (4 weeks)
It has been great to welcome some new very enthusiastic members this term but both groups are now absolutely full to capacity so apologies to those on the waiting list. This does mean that if you no longer wish to attend it is very important that you let me know. Thanks!