Moving to Music
Meeting Details
What we do
The two groups might appeal to anyone who enjoys the freedom and relaxation that moving to music brings. Our aim is to keep all our bits in good working order, and have fun at the same time!
We do simple stretching, aerobic and weight bearing exercise and dance designed to maintain, and hopefully improve stamina, suppleness, and strength and at the same time stimulate concentration and memory. We work through a series of routines focusing on different parts of the body and usually include a more creative section that changes frequently.
The music is an eclectic mix that might come from anywhere in the world - Cuba, Italy, Africa, Asia, UK, USA; and any time – the nostalgic 40's, the rocking 50's; and any style from folk to jazz, classic (very occasionally), Bhangra, Latin American, and of course, 'pop'. The only criteria that count are that the music is rhythmic, and uplifting, and so guaranteed to get us moving!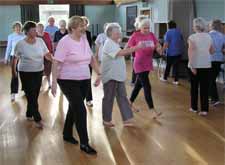 HOUSE RULES: Only two:
1. Safety first - non-slip soles or bare feet are a must;
2. You are responsible for your own level of participation - work within your own limitations.
No pain, no strain, just start the week with a swing!
Reports
NOVEMBER 2020
We will start up again when we can physically meet again at Castle Street.