Moving to Music
Meeting Details
What we do
The two groups might appeal to anyone who enjoys the freedom and relaxation that moving to music brings. Our aim is to keep all our bits in good working order, and have fun at the same time!
We do simple stretching, aerobic and weight bearing exercise and dance designed to maintain, and hopefully improve stamina, suppleness, and strength and at the same time stimulate concentration and memory. We work through a series of routines focusing on different parts of the body and usually include a more creative section that changes frequently.
The music is an eclectic mix that might come from anywhere in the world - Cuba, Italy, Africa, Asia, UK, USA; and any time – the nostalgic 40's, the rocking 50's; and any style from folk to jazz, classic (very occasionally), Bhangra, Latin American, and of course, 'pop'. The only criteria that count are that the music is rhythmic, and uplifting, and so guaranteed to get us moving!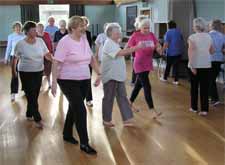 HOUSE RULES: Only two:
1. Safety first - non-slip soles or bare feet are a must;
2. You are responsible for your own level of participation - work within your own limitations.
No pain, no strain, just start the week with a swing!
Reports
May 2019
Moving to Music 1 - Weekly: Monday 10.45 a.m -12.15 p.m. Abbot Hall Social Centre
April 1st – May 20th (excluding April 15th & 22nd)
Moving to Music 1 - Weekly: Wednesday 12.15 p.m. -13.15 p.m. Castle Street Centre
April 3rd – May 22nd (excluding April 17th)
We still meet every week and try to keep joints, muscles and memory in good working order, as painlessly as possible, through our range of exercise, dance, much hilarity and good music! There is still a waiting list that, I'm pleased to report, has reduced somewhat as the year has progressed but my apologies to those patient people I haven't been able to invite to join us, as yet.
This year has seemed to rush past at an alarming rate and I can hardly believe that the summer break is already on the horizon which I hope all will enjoy before we meet again in September.
November 2018
No report received
August 2018
Weekly: Monday 10.45 a.m -12.15 p.m. Abbot Hall Social Centre
September 10th to December 10th except October 29th
Weekly: Wednesday 12.15 -13.15 p.m. Castle Street Centre
September 12th to December 12th except October 24th
As I write this extraordinarily hot summer we are having leaves me with a total disinclination to move at all (except to water the garden), so by September a spot of jigging around will be absolutely essential! If you were a member of either group last term I shall assume that you will be returning unless you let me know otherwise, and as there is still a waiting list it really is vital that you tell me if you no longer are able, or wish, to attend before the open day please. Thank you!
I look forward to seeing you in September to 'strut our stuff' once more and in the meantime – stay cool!!