Singing for Fun (formerly Ruth Gordon Singers)
Meeting Details
Meeting Day
Tuesday
Time
10.45 - 12.00
Frequency
Fortnightly
Location
Unitarian Chapel, Kendal
Co-ordinator(s)
Kathy Webster
What we do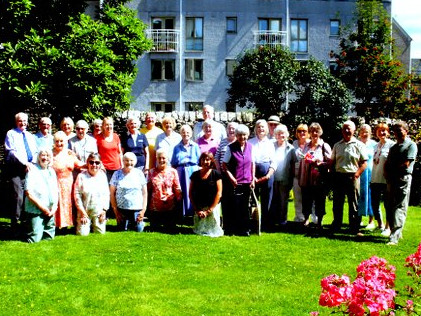 We are a happy informal group - singing for fun, not as a choir. We choose about 8 items to sing each time, from a large repertoire including old favourites, songs from the musicals, a few originals, and sing-a-longs.
We have a mixed membership of sopranos, altos, tenors and baritones, and a lovely pianist who takes us through our scales at the beginning of each session. Members do not have to be able to read music, although some do.
Some background
When Dr Ruth Gordon came to Kendal from South Africa she made sure she could belong to and take part in as much as possible of the social life of the town. She joined the U3A, several interest groups welcomed her into their circle, and members often had the chance to enjoy her lively illustrated talks at our Monthly Meetings.
So it began. She set up our Singing for Fun group in her home, and by Jove it was fun with a capital F. We were introduced to many different songs, some of which we liked more than others, and many original pieces. For these Ruth wrote the words to music written by her friend Doris Fenn, who came over from South Africa and was present at our first concert for U3A members in 1999.
Ruth died on 11 January 2002, aged 91. When a celebration of her life took place at the Unitarian Chapel we were privileged to sing for her, and later, with the blessing of her family, to rename our group in her memory.
And so we continue, as we know Ruth wished us to . . .
Reports
November 2018
Singing for Fun
We have had a good Autumn so far with some record attendances Brenda and Ray joined our happy group but two members, Valerie and David moved away. Lately, it was requested to me by a member of Ruth Gordon's family, that we rename our group, no longer to be in her name. While I appreciate that not many people know who she was, it was with reluctance that I agreed, having put it to the vote and taken other ideas into consideration. So we continue "Singing for Fun" Another decision was taken to commence singing at 10.30 am – to start in the New Year.
August 2018
Next Meetings - 4 & 18 September 2 & 16 & 30 October 13 & 27 November 11 December
As we welcomed Diana and David to our 'family' we also mourned the loss of Enid who brought so much to our mornings together.
Numbers remain steady at around 30 each time and recently Siobhan, a young lady related to Jackie, came to do breathing exercises and introduced us to songs from other countries which we sang with her. We hope she will return some time.
Our Summer Social is planned for Wednesday 15 August at the Unitarian Chapel and I hope to welcome many members and guests on that occasion.
May 2018
It was with great delight that we resumed our get-togethers after Christmas – only to be prevented from meeting on 6 February by the threat of slippery pavements in the snow.
Safety first being the motto of the day! During the winter the numbers are always down but still average attendance of around 30. Margaret is introducing us to some different songs – with a Tyneside and Northumberland connection – fun with the dialects!