Science and Technology
Meeting Details
Meeting Day
Last Friday in the Month
Time
2.00 pm
Frequency
Monthly
Location
Castle Street Centre
Co-ordinator(s)
Andy Carruthers & Ed Tipping
What we do
We aim to cover all aspects of Science and Technology, and ideas from group members are strongly encouraged. New members are very welcome.
In normal times, our meetings consist of talks by a group member or guest speaker, or visits to places of scientific or technological interest. Recent talks have included Cleaning up the Thames, Antibodies, Optical Illusions, and Earthquakes, while the most recent visits have been to the Barrow Waste Processing Facility and Croppers Paper Mill.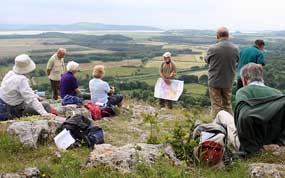 A geological field trip
In this time of COVID, we have instigated Zoom talks, see below for details.
Reports
ZOOM MEETINGS
Here is the schedule of Zoom talks for 2020-2021, all starting at 1400
2020 October 30 Radiocarbon parts 1 and 2 - Ed Tipping (Recording available)
2020 November 27 Radiocarbon parts 3 and 4 - Ed Tipping (Recording available)
2021 January 29 Napoleon's buttons - Malcolm McIvor (Recording available)
2021 February 26 Morecambe Bay tides Mike Warren (Recording available)
2021 March 26 I didn't think that could happen, an anatomy of a disaster - Graham Dalzell (Recording available)
2021 April 30 Studies in the Jonglei area of Sudan - Ian Aikman (Recording available)
2021 May 28 Earth history: how special is our planet? - Ian James (Recording available)
2021 June 25 The other side of CO2 emissions - aquatic acidification - Leslie Webb (Cockermouth U3A)
If you are a Group member, you can view the presentations at Recordings.
This facility is password protected; contact Andy Carruthers (andyc-u3a@outlook.com) or Ed Tipping (edtipping48@gmail.com) for signing-in details.
March 2020
U3A Science & Technology Group Open meeting, 31 January 2020
Future of the S & T Group - REPORT
This document summarises what was said at the meeting, together with post-meeting comments by participants, and messages from Group members who were unable to attend the meeting.
At the end the Group Coordinators (Andy Carruthers, Ed Tipping) put forward their proposals for immediate and long-term actions.
Comments and suggestions from all Group members are very welcome.
HOW TO RUN FUTURE MEETINGS
This was the primary topic for the meeting, prompted by the Coordinators' recent difficulty in filling slots in the programme. Background information to inform the discussion was as follows;
On average, 33% of the members (currently totalling 82) attend each meeting.
Over the past 8 years, most (80%) of the monthly talks have been given by just 13 individuals.
We learned that such a situation is not uncommon in U3A Groups.
The Coordinators had drawn up a list of five possible ways to proceed, as follows.
Continue as we are, hoping that more members will contribute.
In collaboration with other local U3A S&T Groups, create a pool of talks that can be "traded", thereby increasing the number of talks available for each Group.
Invite shorter talks, several of which could fill a meeting slot.
Foster a 'learning' structure, in which small groups collaborate on a subject of mutual interest, to produce a presentation.
Split into more focused S&T Groups, within which members might feel more comfortable and willing to contribute.
Discussion points relevant to the current format (lecture followed by questions)
A number of members do not count themselves as scientists, and consequently find some of the talks hard to follow.
It would be good if talks could be shorter and more time were left for discussion.
Material about the talks could be circulated to members before the meeting, to enable them to prepare comments and questions. This could include and abstract, and reference material. But it was noted that this this may be challenging for a presenter who has 'learnt' a subject to do a presentation as he/she might not have the depth of knowledge to answer specific questions.
Some members favour the presentation of a substantial talk given by an expert.
The whole S&T membership, or the whole SLU3A, might be consulted to suggest topics for talks.
There was support for contacting other U3A S&T Groups, with a view to exchanging talks.
Group activities
There was significant support for group learning, according to #4 above. This would likely involve meeting elsewhere and/or communicating by e-mail, over a period to do the research and develop the presentation.
Clive Sutton illustrated possibilities, using the topic of plastics as an example.
It was suggested that several small groups could discuss a common topic during a meeting, and report their conclusions at the end.
Social implications, current science
It was suggested that the social consequences of science and technology should be considered, via group discussions.
It was suggested that scientific stories in the news could be discussed briefly at the start of each meeting.
OTHER MATTERS
There was strong support for site and field visits, and a number of possibilities were offered. These included visits to Leighton Moss (bird reserve), Jodrell Bank, Sellafield, Ennerdale (rewilding project), Gilkes Engineering, geological sites, wind turbines, talks (e.g. Michael Mosley's recent talk on diet), and a farm visit.
The idea of a primarily social meeting during December with a Christmas Quiz appeared popular. Each member might contribute a question (with the answer!)
The possibility of changing the day of the monthly meetings was discussed, and partly supported, but this would depend on available locations and times.
It was suggested that attendees should wear name labels during meetings.
The possibility of holding debates about controversial topics was raised, but a way forward did not emerge.
COORDINATORS' PROPOSALS
There are many possibilities, and they cannot be introduced all at once. We think that the following actions would be supported by most or all members, and we will bring them in immediately unless there are objections.
Provide guidance to speakers (see draft list at the end).
Organize a Christmas Quiz, as an additional meeting in either December or January.
Solicit ideas for site visits. We are happy to help with organisation, but we expect individual members, or groups of members, to take the lead.
Solicit suggestions for topics, with no obligation on the members involved to deliver the talk.
In the longer term, we will ponder the following.
Establish links with other U3A S&T Groups, with a view to exchanging speakers, on the basis of no travel expenses etc.
Think about discussion of scientific events of the day at the start of each meeting. This could be for 10-15 mins, followed by tea/coffee, followed by the main talk. Volunteers would be needed to do this, and they need not be expert, just concerned / interested.
Ask attendees to wear name badges.
Ask members to provide information on their scientific expertise and/or interests.
Ask people to identify themselves when asking questions.
Change the meeting day, time and location.
Investigate the possibility of obtaining access to published research material, by getting the Third Age Trust to fund journal subscriptions.
DRAFT Guidance to speakers
Provide a brief synopsis for pre-meeting circulation.
Be aware that members can find some things hard to follow, lead them in gently.
Keep the talk to 45 minutes or less, to avoid over-burdening the audience and to allow time for discussion.
Within the talk, identify points for discussion at the end.
Give suggestions for further reading etc.