Table Tennis (Doubles)
Meeting Details
Meeting Day
Tuesday
Time
1.45 - 3.45
Frequency
Weekly
Location
Natland Village Hall
Co-ordinator(s)
Ray Richardson
What we do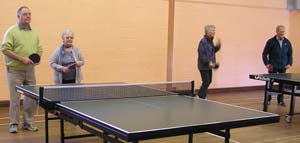 We are a friendly group who enjoy both the exercise and the laughter of our games. We stop for a tea break and chat at 2.30 p.m.
We have a small number of spaces for new players – you don't need to be an expert to join us.
If you are interested in coming along and having a go, please call me.
Reports
NOVEMBER 2020
Please note that as a precaution, all Natland Village Hall bookings have been cancelled until further notice.