News and notices
LEARNING TO BE RETIRED
Learning to be Retired, Autumn 2019
The participants:
A group of seven U3A members plus two facilitators completed this course during Oct & Nov.
During the final session we did an evaluation.
Here is some of what was written:
'I recognise now the areas of my life where I want to put my energies rather than just drifting into things.'
'The course has helped me to look at retirement as a valuable time of life, which is worth taking time to think about constructively and methodically'.
'The course clarifies what each individual wants out of retirement and ways to reach their goals'.
'It has made me realise that everyone's retirement is different'
'Retirement is an ongoing process, change happens and that is fine'.
'Gained information all round, I will seek more information from Age U.K. especially about living alone'
'Inspiration'
Plans for the future:
There are no dates for a second course as yet. Now the course has been successfully piloted the content needs to be reviewed plus various practical matters considered. If you want any information about the progress of this please email: jan.smith@kencomp.net
Posted on 10 October 2019
NORTH WEST REGION - NEWSFLASH
The NW Region Newsflash for December is now available,
Posted on 2 December 2019
ABBOT HALL SECRETARY
New Secretary Needed for Abbot Hall Social Centre
Kathy Webster writes: Next year there will be an opportunity for someone to take office as hon. secretary at Abbot Hall Social Centre. It may be suitable for two people to share, one as assistant secretary.
Members of the centre's committee are all volunteers, working together, many representing groups who use the centre. There are four committee meetings per year: February, May, August and November, with the May meeting including the AGM. All are held at the centre starting at 4 pm.
My years in office have been very interesting and rewarding but I feel the time has come to step down, which I shall be doing at our AGM next May. It will, of course, be most useful and advisable to for the prospective office holder(s) to have time to get to know what is involved, and all advice and support will be given. I ask that you give serious consideration to this request and look forward to meeting you. Please email me if you are interested.
Posted on 27 November 2019
KIRKBY LONSDALE U3A
Potential U3A Base in Kirkby Lonsdale
There has been a favourable response to the idea of a new U3A in Kirkby Lonsdale, as mentioned in the November newsletter. The NW Regional Trustee, Gillian Russell is guiding this development and is looking for a local resident to help set up an open exploratory meeting in the town. The meeting can be fully funded and supported by the Third Aid Trust, and the volunteer organiser does not have to make any further commitment to the exercise. Gill can be contacted by email or on 0151 633 2796.
Posted on 27 November 2019
WINTER WARMTH FUND
The Winter Warmth Fund mentioned at the November monthly meeting will continue to offer matched funding on all donations received up to 11 December, so doubling the value of money donated. For further details see the Cumbria Community Foundation web site.
Posted on 27 November 2019
SECOND LOCAL HISTORY GROUP ?
Don't Just Turn Up... Organise!
The SLU3A Local History group is proving to be extremely popular. Not only is the group fully subscribed at around 140 members, there is also a very long waiting list of people wishing to participate in its events.
This level of interest cannot be satisfied by one group alone, so group leader Ruth Counsel would be very grateful if one member (or more) could come forward to organise a second local history group. Please contact groups coordinator Hilary Claxton if you might be able to assist in clearing the log-jam.
For those local historians lucky enough to have their feet already under the table, the Local History group has already booked two meetings for 2020:
29 January: The Yards of Kendal – Part Two, by Trevor Hughes
26 February: Francis Strickland and the 1745 Rebellion, by Ian Hodkinson
Nancy is also asking anyone who can give a talk to let her know.
Posted on 27 November 2019
VACANCIES FOR OENOPHILES
Wine Appreciation 2 now has vacancies for new members to join. They would welcome anyone interested in learning about the wines of the world. They meet on the 4th Thursday of each month at 2 pm in the Abbott Hall Social Centre. Group leader Barbara Mason points out that they are all 'young at heart' and enjoy their meetings. Contact Barbara if you are interested.
Posted on 27 November 2019
NEW GROUP - CONTEMPORARY HISTORY AND POLITICS
Inaugural Meeting
A new group is being formed based on reading and discussing books which explore how the modern world is changing, both domestically and internationally, be that the environmental crisis, the growth of consumer capitalism, the rise of China, the impact of social media and the internet, Brexit, Trump, tax havens and international finance or racism and the refugee crisis.
Members will take it in turn to select a book, which others can then read before the next meeting. The person choosing the text will then introduce the book and its main ideas, and lead a discussion.
Meetings will be on the 2nd Friday of each month at Castle Street Centre, 10.30 am to 12 noon.
If you are interested in joining this group please contact Ed Mason and come along on 10 January prepared to discuss The Age of Surveillance Capitalism: The Fight for a Human Future at the New Frontier of Power, by Shoshana Zuboff.
Posted on 26 November 2019
TUESDAY BOOK CLUB - name change
We have decided to change our name from 'Tuesday Book Club' to 'Books on Tuesday'.
We hope that this makes us easier to find on the Groups List.
Posted on 20 November 2019
DONATION TO NW AIR AMBULANCE
South Lakes U3A recently made a donation of £100 to North West Air Ambulance following charity box collections made at monthly meetings.
Posted on 6 November 2019
KENDAL WALKING FESTIVAL
Kendal Walking Festival - Friday 8th May to Monday 11th May 2020
Web site is opening for bookings. Several SLU3A members are leading walks.
An opportunity for members with family and friends who would like to participate to make arrangements to coincide with the event.
Posted on 6 November 2019
25th ANNIVERSARY TREE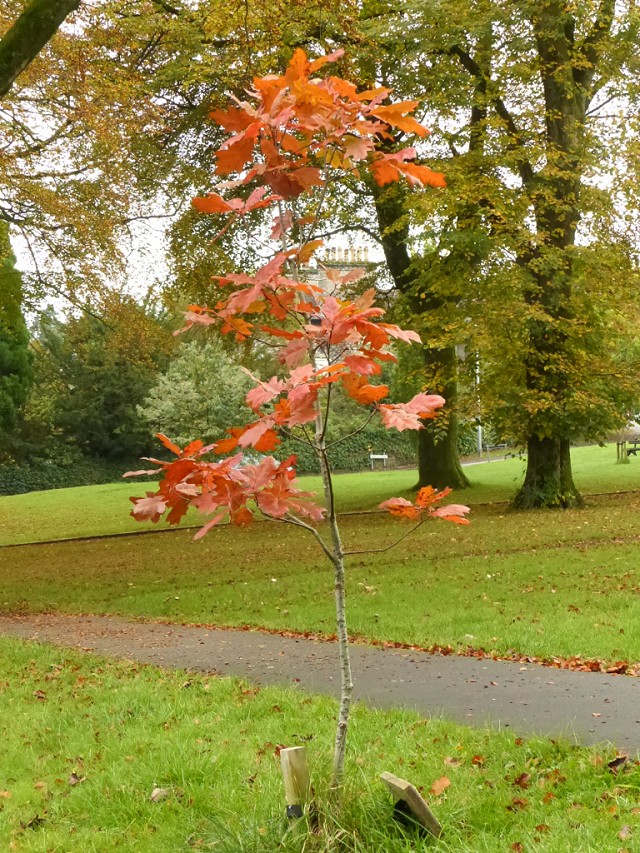 In January last year, we planted an oak tree at Greenside in Kendal to commemorate our 25th anniversary. You will be pleased to know that it is thriving and is showing lovely autumn colours.
Thanks to John Mounsey for the photograph. Click image for larger version.
More photos on the Photos page.
Posted on 19 October 2019
EQUIPMENT OFFICER - VOLUNTEER NEEDED!
After many years of sterling service, Malcolm Booker has resigned as Equipment Officer for SLU3A at Abbot Hall Social Centre and we are now looking for a volunteer to replace him. The post involves helping SLU3A coordinators use the laptop and audio-visual equipment at the Hall. Malcolm (Tel: 01539 732871) has kindly offered to discuss the duties with any potential applicant. Please contact any member of the Committee if you might be able and willing to help - or use the Contact US page.
Posted on 24 September 2019